Beschrijving
Trak Racer TR80 Mach 2 Cockpit with Rally Style Seat
IMPROVED DESIGN | IMPROVED PACKAGING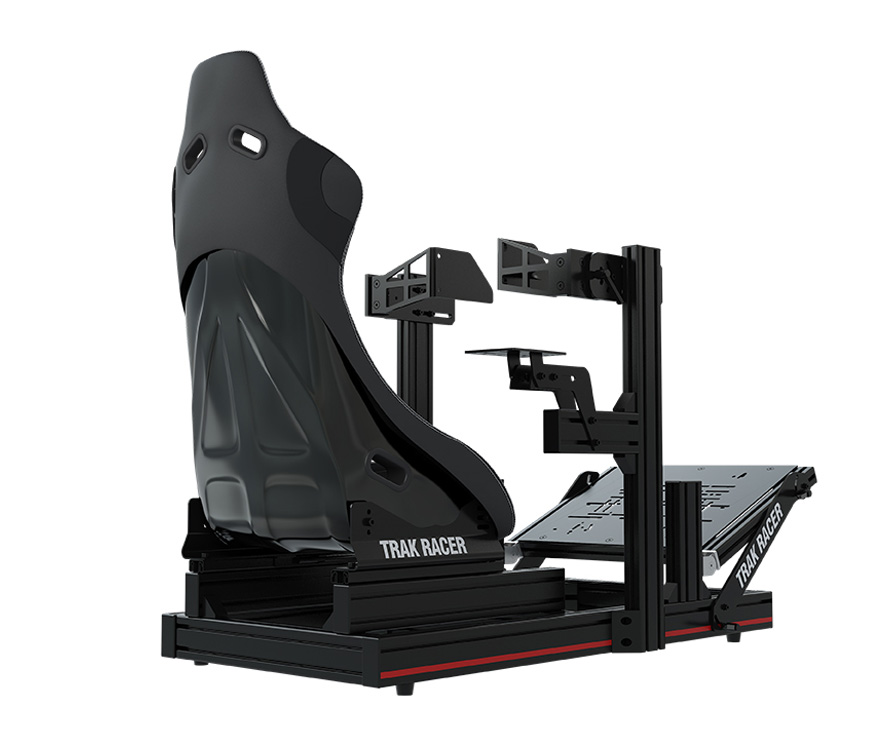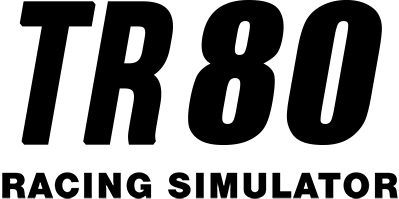 Trak Racer's TR80 has infinite adjustment and the most expandable and rigid components in the business. The strength of the TR80 will ensure no flex is experienced and no loss of force feedback, even with the strongest servos on the market. If you need a bit more strength checkout the Premium TR160 Sim Rig.

ADD MORE
Trak Racer TR80 Mach 2 Dimensions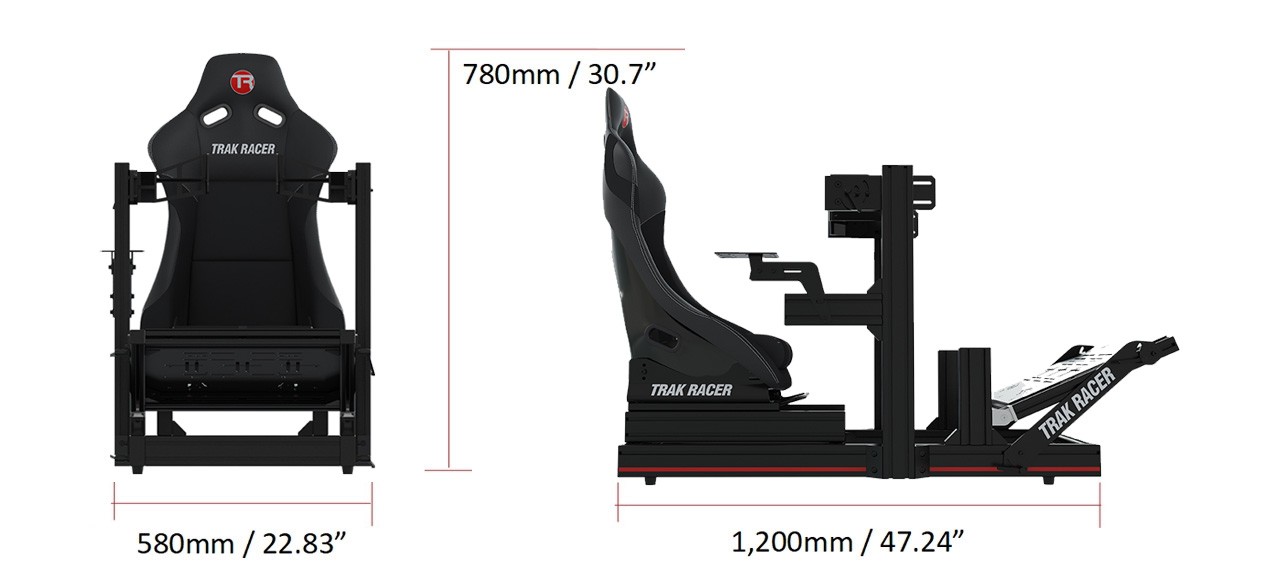 Introduction to Extruded Aluminium Profile Simulators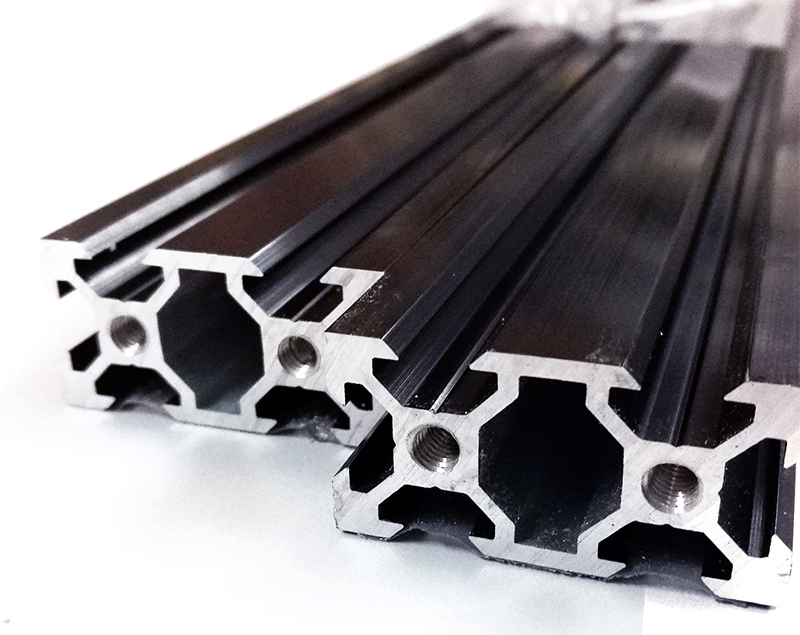 Since 2009 Trak Racer has been pioneering the Sim Racing industry with great value and well designed products. In recent years, Extruded aluminium has come into the sim racing space for benefits such as it's strength, expandability and minimal setup costs for the manufacturer when compared to other simulators on the market like the Trak Racer RS6 and TR8.
Disadvantages of this type of simulator is additional setup time and more industrial aesthetics.
Extruded aluminium is a fixed cross-sectional length of aluminium, which has portions "removed" along the length, known as extrusions. This allows for the connection of multiple separate lengths of extruded aluminium which can be used to build simple to very complex structures using a nut that slides into the extrusion and securing with a screw. 80/20 is a registered brand of extruded aluminium (among many others) which is often interchanged with the generic term "extruded aluminium". Because of the versatility and expandability, extruded aluminium is often used for creating racing simulators. The most common type of extrusion used for sim rigs is "t-slot extruded aluminium". It features a t-shaped extrusion (most commonly on all sides).
What's Included with the TR80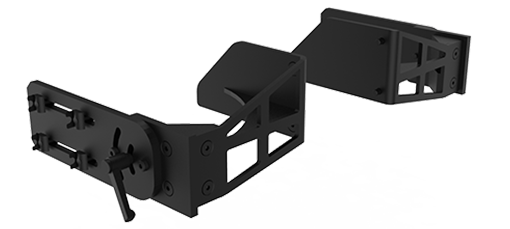 Fully Adjustable Direct Fit Wheel Mount
The Fanatec DD1 DD2 Wheel Mount is fully adjustable (back/forth and up/down angle) and is made out of thick Laser Cut Carbon Steel. This bracket is compatible with Fanatec Podium DD1 DD2 Wheel Bases.
MSRP $129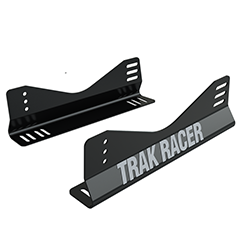 BONUS
Steel Side Seat Brackets
Simple mounting with a heap of positions and suitable for most side mount fibreglass seats.
MSRP $39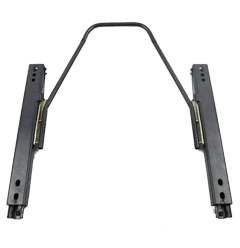 BONUS
Seat Slider Rails
With dual-locking mechanism and adjustment bar.
MSRP $49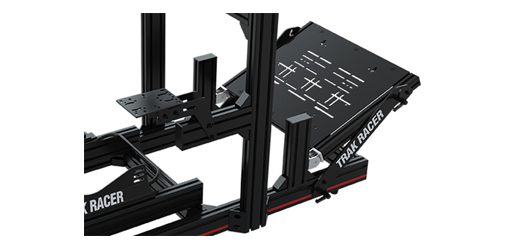 Adjustable Two-way Pedal Mount
Mount at Low or High
The TR80 Pedal Mount is fully adjustable to sit in a lot position or high and is pre-drilled for all major brand pedals. The clever design mounts allows the pedals to slide back and forth / up and down.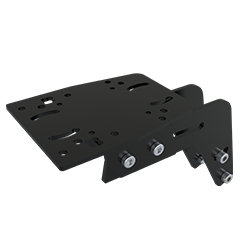 BONUS
Adjustable Shifter Mount
Pre-drilled for all the major brands, the included shifter mount mounts on left or right.
MSRP $79
Unbeatable 5 Year Warranty
The TR80 has been put through the most harsh treatment and guaranteed to last for years.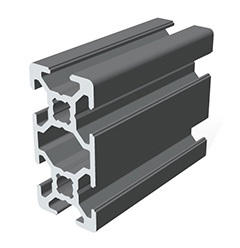 Flex-Free and Premium Aluminium Chassis
The TR80's main chassis is 80mm x 40mm profile with 6 T-Slots.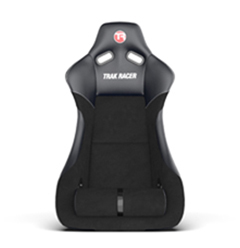 Fibreglass Rally Style Race Seat
Trak Racer have developed a racing simulator seat with extra padding to the same fit and specifications as a real Rally race seat.
MSRP AU $249.00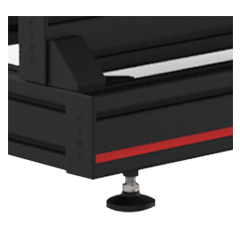 Level your Rig and Protect your Floors
The included rubber levelling and hard wood floor protecting rubber feet are adjustable to provide a stable floor surface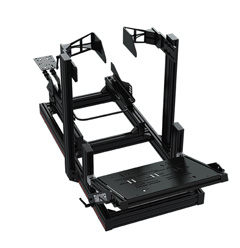 Perfectly Proportioned Chassis
The TR80 Chassis has been designed to suit all driver heights and most seats and peripherals on the market. Ready to be customised and expanded by you.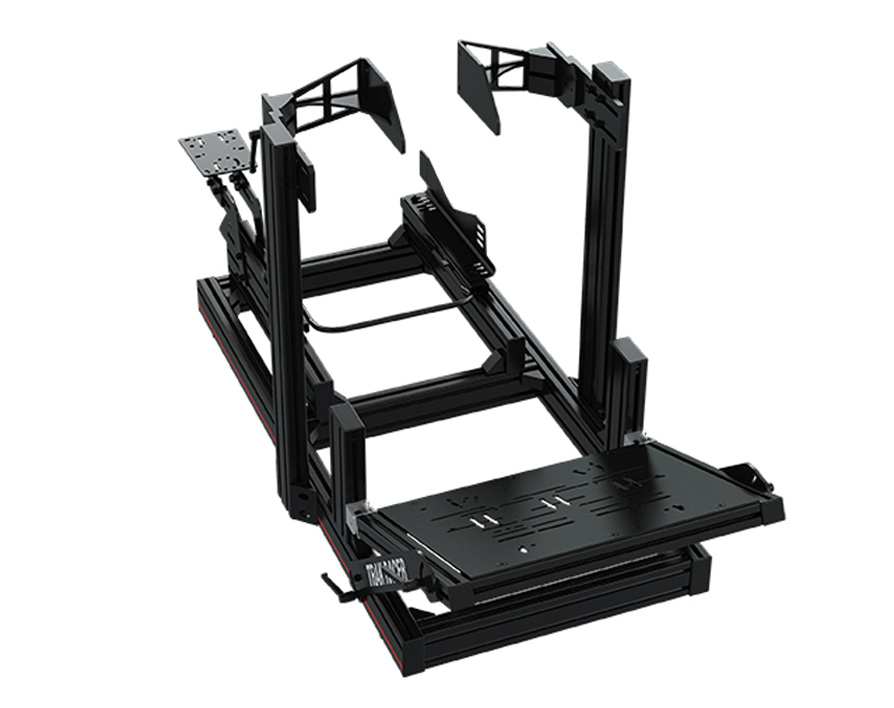 BLACK ANODIZED
80mm x 40mm
PRO ALUMINIUM CHASSIS
Our Premium Fasteners along with our high-quality aluminium are able to withstand vibrations and also high levels of longitudinal and transverse forces. After completing exhaustive hours of testing with Direct Drive wheels including MIGE/OSW up to 30Nm and SimExperience AccuForce we can confidentially guarantee that the TR80 is able to withstand greater forces than 30Nm.
FOR A MORE RIGID RIG, CHECKOUT THE TRAK RACER TR80!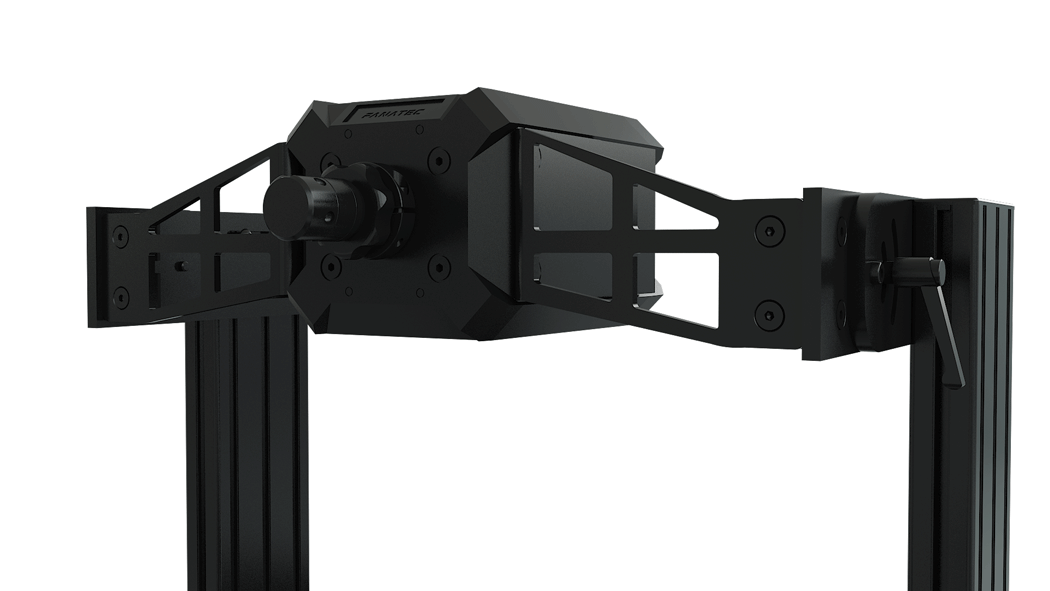 Thick STEEL Fully Adjustable Side-Mounts for Fanatec Direct Drive
The Side-Mount Support for Fanatec Podium Direct Drive wheel Bases are fully adjustable (back/forth and up/down angle) and made out of thick Laser Cut Carbon Steel with the equivalent strength of a up to a 30mm Aluminium Plate. This bracket is compatible with the following wheel bases:
Fanatec Podium DD1 Direct Drive
Fanatec Podium DD2 Direct Drive
Contact us if your wheel is not listed here
Adjustable Two-way Pedal Mount
The TR80 Pedal Mount can be mounted to just above or up high above the 80mm high aluminium chassis and pre-drilled for all major brand pedals. The clever design mounts outside the chassis for low-level height or and slides up a vertical profile to expand positions.
The pedal baseplate is made out of thick carbon steel and has pre-drilled holes for all major brand pedals (see list below) and slots for left/right adjustment with Heusinkveld pedals and others. The pedal plate can be angle adjusted with the locking lever and moved forwards and backwards. This bracket is compatible with the following pedals (and more):
Fanatec including CSL Elite Pedals, ClubSport V1/V2/V3
Thrustmaster including 2-pedals (all), T3PA, GT Ed, T3PGT, T3PA PRO add-on and T500
Heusinkveld including Ultimate, Sprint and Pro
Quaife Throttle Pedal and Brake
HPP PRX 3P
Logitech G Series
Contact us if your pedals are not listed here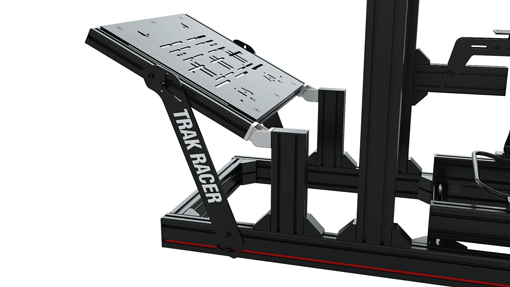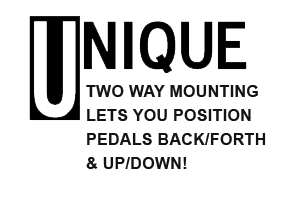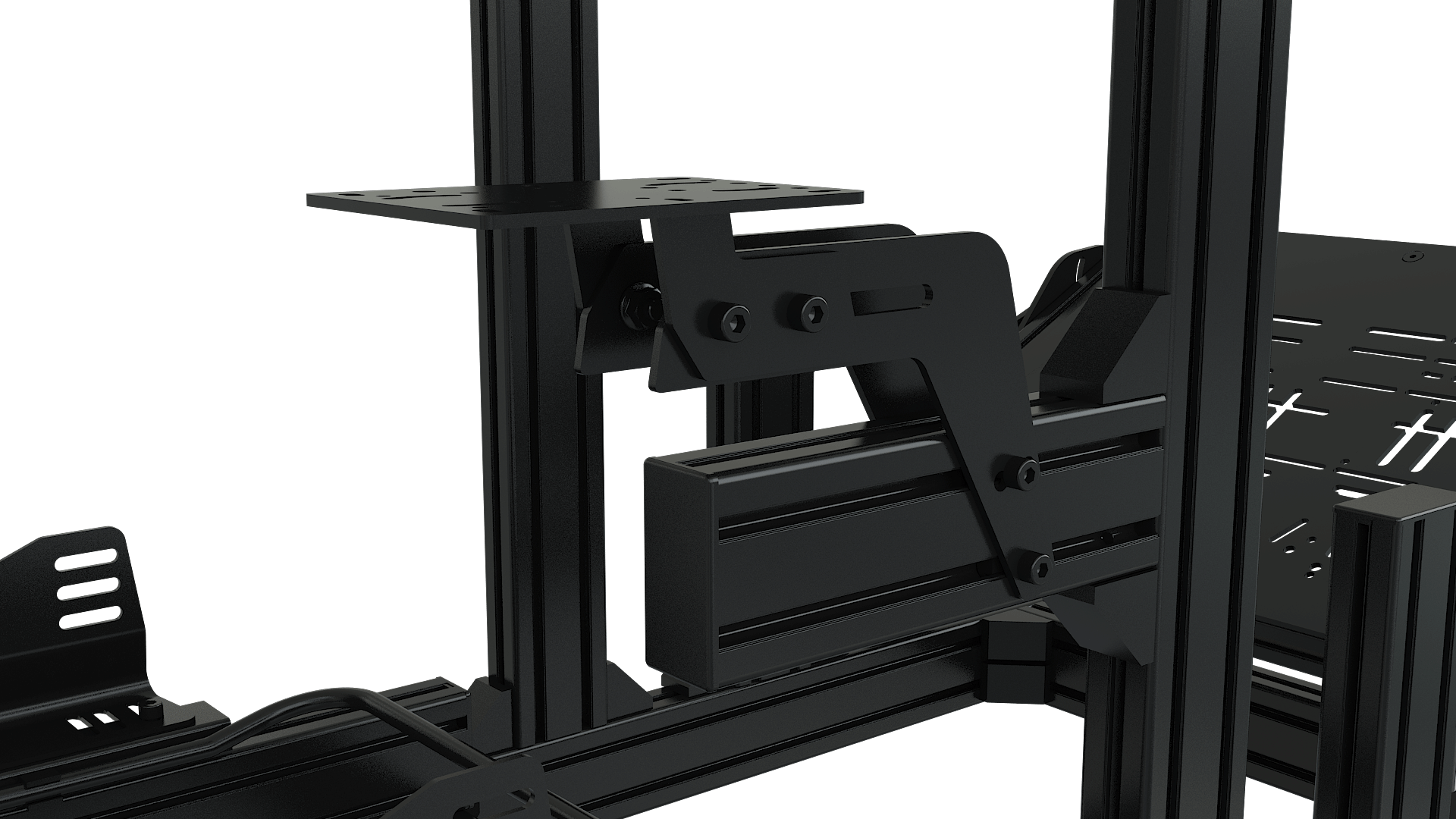 Fully Adjustable and Pre-Drilled Two-way Shifter Mount
This rigid gear shift mount sits firmly on the TR80's 80mm x 40mm premium aluminium profile using 2 slots to allow you to slide up and down to your perfect position and angle adjust. The included bracket has it's own sliding function for a more precise position as well as 3 angle adjustment. Shifter and handbrake bracket details
This bracket is compatible with the following shifters (and more) :
Fanatec including ClubSport Shifter, SQ
Thrustmaster including TH8A, RSTSS, TSS+
Quaife PSL Sequential
Heusinkveld SQ Shifter and Handbrake
Logitech Including G25, 27, 29, 920 Shifter
Others including DSD SQ Shifter, DSD Hydralulic Handbrake, RealGear RALLYpro Handbrake
Contact us if your pedals are not listed here
Adjustable 9-Stage Seat Brackets
The TR80 Cockpit Frame is designed for motorsport professionals and serious sim racers so quality when selecting materials and designing components was considered a top priority. We include seat brackets and a dual-lock slide system to adjust your seating position within a matter of seconds and the dual locking mechanism will ensure that the seat doesn't move under heavy braking.
The adjustable mounting points will enable you to mount a large variety of different GT-style seats with side mounting holes.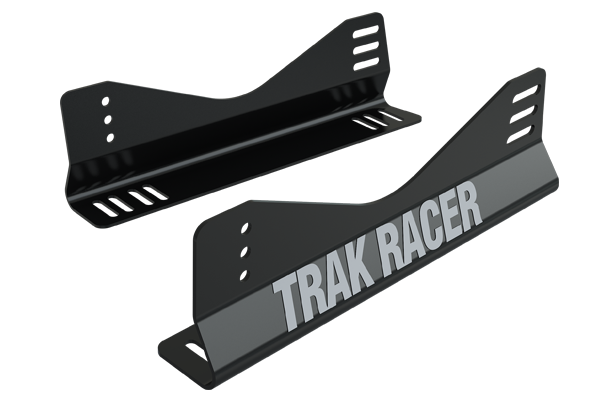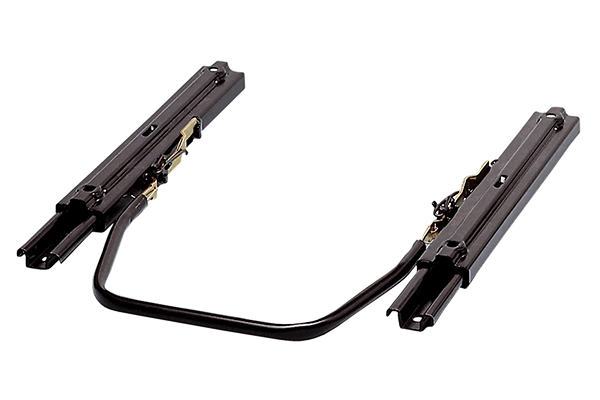 Premium Sliding Seat Runner Kit
Trak Racer Chassis mounted seat sliders bolt directly onto the 80mm x 40mm seat premium aluminium seat supports. Each kit includes a pair of runners for one seat, the lift up activation lever and kit of fasteners. Multi-brand applications for various seat brands, including Trak Racer, Cobra, OMP, Sparco and Corbeau seats to name a few. The measurement between each rail is approximately 32cm.
High-end steel construction
Supplied as a kit for one seat with fittings
Suitable for most base mounted type seats and seat brackets
Enables seats to be easily adjusted laterally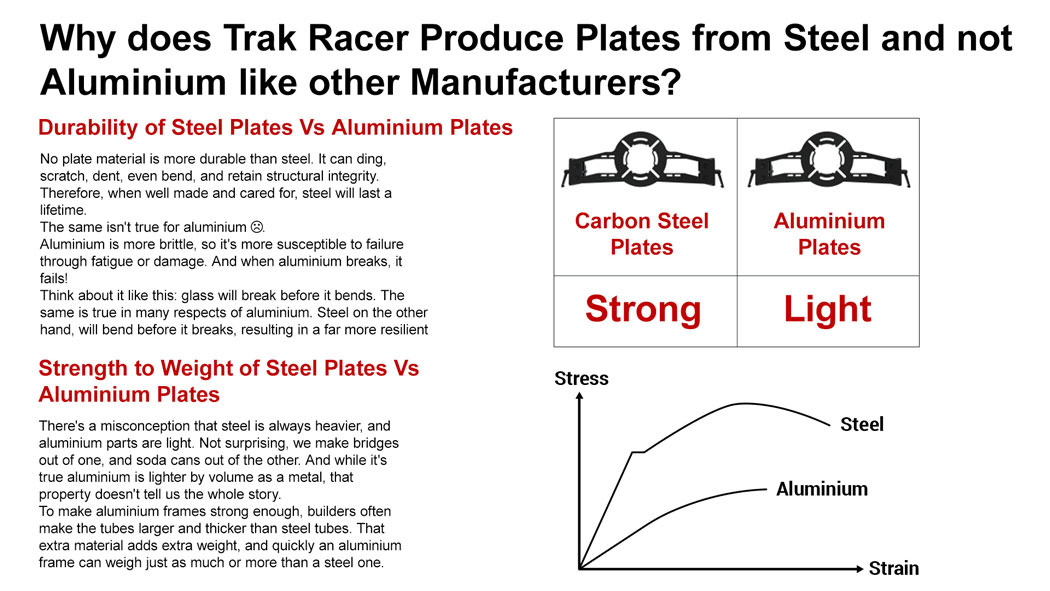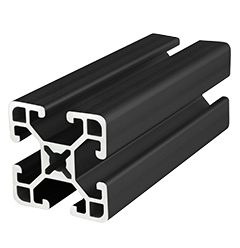 Expand with Trak Racer
The T-Slot system present endless possibilities. If you cant find the mount from Trak Racer you need, find it elsewhere as the system used is universal.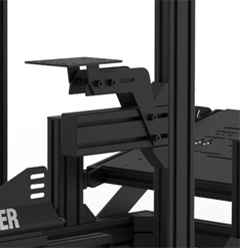 Strong Components
A sim rig is only as good as it's components and the TR80 will not disappoint. All parts are more the double the strength as required by normal standards.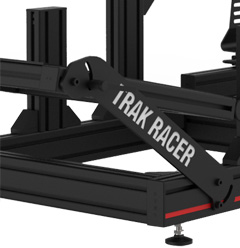 Fast Adjustments
The flat plates used to construct the TR80 and it's accessories use flat plates to enable easy assembly, alterations and adjustments.
Unbeatable 5 Year Warranty
The TR80 has been put through the most harsh treatment and guaranteed to last for years.
Trak Racer TR80 Mach 2 Overview
The TR80 has been designed with experience gained since Trak Racer started in 2008. The base structure is a 80 × 40mm high-end aluminium T-Slot extruded profile, anodized in black. Your choice of wheel mount will be supported by 80 × 40mm high-end aluminium T-Slot extruded profile, also anodized in black. Special anodized black 90-degree brackets connect the frame and laser cut carbon steel plates allow you to attach your peripherals. The TR80 is Direct Drive & Belt Drive Wheel Ready, Pre-drilled for all popular steering wheels, pedals and shifters on the market, comes with your option of 3 Stiffened Wheel Mounts for No-Flex Racing, has several add-on options including an Optional Integrated Monitor Stand (for 1-4 Monitors) and Button Box Mount. Designed and Engineered in Australia.
What's Included
Fiberglass Rally-Style Race Seat
BONUS Seat Mounting Brackets
BONUS Seat Sliding Rails and Adjustment Bar
BONUS Rubber Feet to protect floors and level your rig
BONUS Adjustable Gear Shift Mount
80mm x 40mm Black Anodized Aluminium Chassis
80mm x 40mm Black Anodized Aluminium Wheel Supports
80mm x 40mm Black Anodized Aluminium Shifter Support
Wheel Deck with Full Slide and Angle Adjustment
Fully Adjustable Pedal Mount (pre-drilled for pedals)
All Mounting Screws, Brackets and Fixtures included
Assembly Tool Kit Included
Frame/Chassis Features
Constructed from high quality extruded aluminium in different profiles sizes including 6-Slot 80 x 40mm
580mm wide and 1,200mm long for firm stance when racing
Low ground clearance with hard wood rubber floor protectors
Finished in black anodized high quality aluminium
Thick Steel Direct Fit Wheel Mount for Fanatec Podium DD1 DD2
Full adjustment including angle and sliding function
Designed to fit Fanatec Podium DD1 DD2 Direct Drive wheel bases
Adjustable Pedal Mount Features
Unique Bracket Design allows you to position the pedal low or in a high position
Hassle Free Angle Adjustment with the Tool-free screw
Fully adjustable bracket for both angle, height and slide
Thick, no-flex Carbon Steel Construction
Pre-drilled mounting points for all major brand pedals
Reinforced Left or Right-Side Mounting Gear Shift Mount Features
The Distance Slider mount allows you to fine-tune the mount to the most ergonomic position for you
Angle Adjustment enables you to face the shifter mount inwards, flat or outwards for more customised adjustability
Pre-drilled mounting points for all major brand shifters including Heusinkveld, DSD, Thrustmaster, Fanatec and more
Fibreglass Race Seat
Premium race-ready high-grade seat with hard back
Adjustable driving position seat
Ergonomically designed for extended periods of use
High density foam construction
Weight Restrictions: Up to 160kg (352 lbs)
Suggested Waist Size: Under 40″
Contact Trak Racer for other available seat sizes
Specifications:
Includes all aluminium profiles and mounting gear
Main Chassis is a 6-Slot 80 x 40mm profile
Steering wheel uprights are 6-Slot 80 x 40mm profiles
Steering wheel height adjustment up to 740mm
Gross weight including all brackets and fixtures: 42KG Excluding Seat
Trak Racer TR80 Mach 2 Features