Reinforced
2″ Iron Chassis
The RS6's 2″ Iron Construction will ensure stable Game Play with Direct Drive Wheels and more. Following the launch of the RS6 Mach 1, we found many of our clients that purchased also had a high-end wheel. What we did was add an extra support, increase welding and increase material thickness.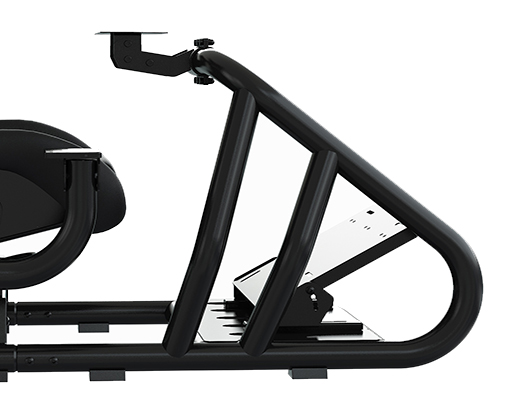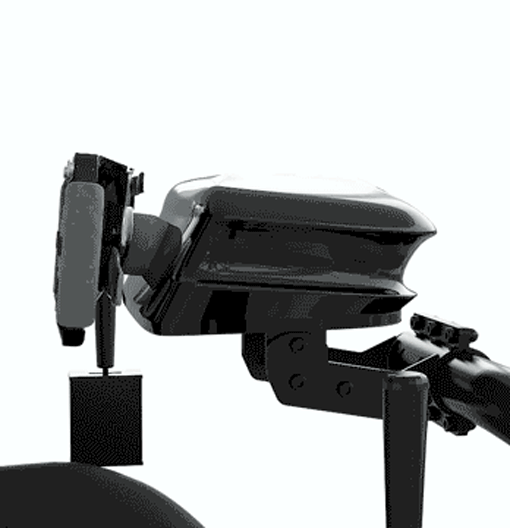 Upgraded
Multi-Point Wheel Deck
Bolted to the chassis with 8 Screws, the Wheel Deck on the upgraded RS6 will prove to be the strongest amongst it's competition. After it's stability, the Wheel Deck is the stand-out feature of the RS6 with height adjustment, the ability to slide 30mm for the perfect grip and angle adjustment to give you the most comfortable driving position. Pre-drilled mounting points for all the major brand wheels including Accuforce, Fanatec, Logitech, Thrustmaster and more.
Strengthened
Adjustable Pedal Deck
The RS6 Pedal Deck gains it's strength from the frame on the underside of it. It's adjustable with it's sliding feature up to 100mm and has angle adjustment for the most comfortable driving position of any simulator on the market. Pre-drilled mounting points for all the major brand wheels including Fanatec, Logitech, Thrustmaster and more.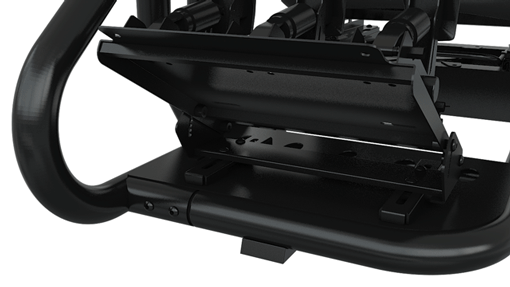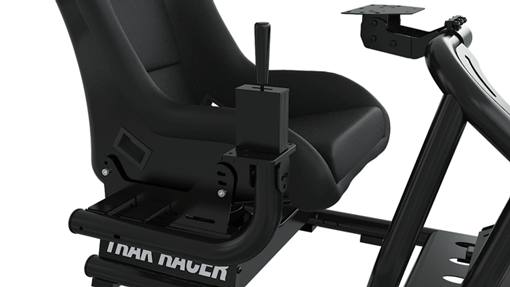 Improved
Left/Right Side Shifter Mount
The included shifter mount incorporates 2-point-slide and angle adjustment functionality. Pre-drilled mounting points for all the major brand wheels including Fanatec, Logitech, Thrustmaster and more.
Seat not included.
Solid Wheel and Pedal Plates
Trak Racer know you hate movement during game time which is why our cockpits have been designed and tested alongside the worlds strongest and most professional peripherals on the market.
Trak Racer RS6 Pictured with Heusinkveld Pro pedals (not included).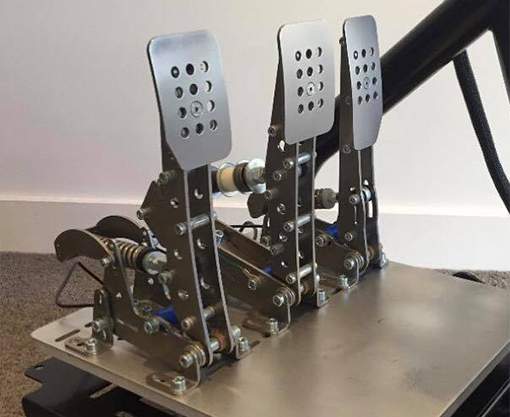 Trak Racer RS6 Mach 3 Key Overview
Compatible with PC and Console
Compatible with all popular steering wheels, pedals and shifters on the market
Improved Left and Right Side Gear Shift mount with pre-drilled mounting points and slide
Reinforced Angle and Distance Adjustable Pedal Mount, suitable for all the big brands!
Upgraded 3-Point adjustable steering wheel mount with slide
Superior build quality, stability and comfort
Designed and Engineered in Australia
Frame/Chassis Features
Solid framework with no obstruction between your legs and no wheel side supports required
580mm wide for firm stance when racing
Low ground clearance with hard wood rubber floor protectors
Finished in 2″(51mm) high-grade Iron tubing
Cable concealment holes allow you to run cables inside the tubing
Adjustable Wheel Mount Features
Solid construction
Pre-drilled mounting points for all major brand wheels
3-Point Adjustment allows you to adjust the height and angle of the mount
Patent design
What's Included
2″ Industrial Strength Iron Chassis
Fully Adjustable Angle Pedal Mount with Distance Slider
Premium Seat Sliders
Left/Right Mounting Gear Shifter
Angle,Slide and Height Adjustable Wheel Mount
Tools and screws included
Assembly Instructions
Trak Racer RS6 Compatibility
Trak Racer has become renowned for both it's strength and compatibility with all the top brand gaming peripherals on the market.Wheel, Pedals, Shifter and Handbrake are not included unless mentioned in the description.